A locksmith is a skilled professional that can fix and install a wide range of security products that protect one's property from unwanted entry. While a majority of people first become acquainted with their local locksmith after being locked out of their home or car, they can also provide a multitude of additional services that help deter thieves and other criminals from breaking into your home or business.
Key Copying & Replacement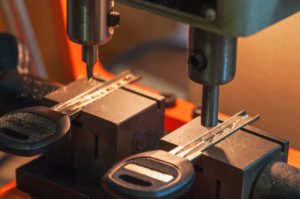 One of the primary services that is offered by a locksmith is the ability to copy and replace keys. Whenever moving to a new home, purchasing a car, or renting an office, it's highly recommended that a copy of the original key is made as a backup, in case it gets lost. In the event that the original key is lost and no copy was made, a locksmith should be able to replace it completely. Make sure to call and ask first, as some lock shops do not have the equipment to make car key replacements. With the proper training and equipment, it's  a relatively simple procedure to make a copy or replacement of a car key.  Your car dealership should be able to replace your car key, but please be weary as they generally charge more than your local locksmith.
High Security Lock Installation
Many construction contractors install basic locks on new homes and businesses, and these locks are susceptible to break without much resistance. If you are looking to improve the security of your building, hire a certified locksmith to install high security locks throughout your property. High security locks make manipulation and tool insertion much more difficult than basic locks, and are highly durable against forced entry attacks. Lock brands such as Medeco & Mul-T-Lock are almost impossible to be tampered with as they are both bump proof and drill proof.  As an added level of security, only the locksmith company that installed these high security locks has the ability to make an authorized copy of your keys. Although these locks are more expensive than your basic lock, they allow you to have peace of mind knowing that your property is secure.
Electronic Access Installation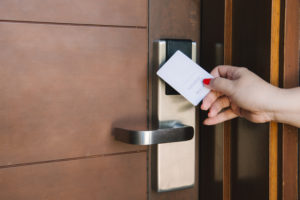 Locksmiths today can install systems that allow you to electronically enter and exit a building or vehicle. There are many different types of electronic access which include: Remote systems, apartment intercom systems, proximity card readers and keypad entry systems. Electronic locks are a popular option because they can be easily reprogrammed in times where mechanical locks would have to be changed. Electronic access is a great way to provide keyless entry to employees and tenants, as well as keep track of who is entering and exiting your building.
Safe Selection & Installation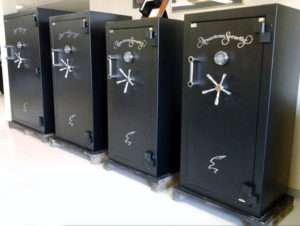 Some locksmith shops also double as safe companies, so when you need advice about a safe, head to your local safe & lock store. They can point you in the right direction when it comes to securing your belongings. There are many different factors to consider when buying a safe, such as its size, fire rating, and its ability to withstand brute force attacks from saws, drills, and other tampering methods.
It would be a good idea to hire a professional to move your safe, especially if it weighs over 500 pounds. Many locksmith companies have safe moving technicians who can relocate your safe to its new location. It's important to double check the dimensions of your safe in case it needs to travel through narrow hallways and tight stairwells. After its been moved, a safe technician can bolt the safe down to the floor, protecting it from theft.
Door & Window Lock Repair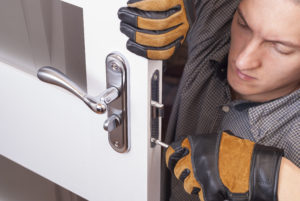 A broken lock on a door or window does not necessarily mean a new one needs to be purchased. Some locks are designed to be easily fixed which can be a much cheaper option than replacing the lock itself. A skilled locksmith should be able to identify the problem, and whether or not it's a good idea to completely replace the lock. Locksmiths can also repair the locks on your windows. It's highly recommended to get a broken lock fixed or replaced in order to keep your home secure.
Rekeying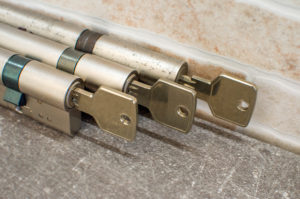 Rekeying your building is the process of realigning or changing the pins inside a lock in order to stop previously issued keys from working on your property. Unless they are damaged beyond repair, it's almost always cheaper to rekey your locks than to replace them completely. Rekeying your locks is mandatory if an unauthorized person currently has keys to your building, such as an ex employee or a previous tenant who has not turned in their key. If you believe your car keys have been stolen, rekey your ignition as well. Locksmiths can rekey all of your locks to one master key, so you don't have to carry around multiple keys for different doors. Contact your locksmith and start rekeying your locks today.
Building Lockouts
Being locked out of your home or business can be a very frustrating experience. Contact a locksmith immediately if you lost your keys and can't access your building. Unless the lock itself is broken, most locksmiths can open your doors with the use of bump keys. Sometimes, a locksmith will need to drill your lock open, rendering it useless. However, this is a last resort measure, and most skilled locksmiths should be able to open your lock without breaking it. Should this happen, your locksmith should already have the equipment on hand to replace your lock.
Panic Exit Devices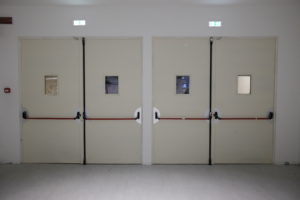 A panic exit device, also known as a crash bar, is a type of door installed in commercial buildings in order to make evacuation as fast as possible in the event of an emergency. Schools and hospitals install these types of doors in order to prevent a human stampede when a large number of people are trying to exit the building at the same time. Contact your local locksmith to install crash bars on the proper exit points of your building.
At King Safe & Lock, we pride ourselves in being one of the best locksmith companies in Houston. Our mission is to provide high quality locksmith services at affordable prices. Our Houston locksmiths operate 24 hours a day, 7 days a week. If you have any questions regarding the security of your property, give us a call at 713-465-0055. All of our locksmiths are insured and bonded for your safety, as well as being fully licensed by the Texas Department of Public Safety. We are also associated with the following groups: Associated Locksmiths of America (ALOA), Texas Locksmiths Association (TLA), Greater Houston Locksmith Association (GHLA), and Safe and Vault Technicians Association (SAVTA), and we also work closely with government and political entities in Houston and surrounding areas.