Locksmiths are masters of all things security, and the industry has advanced so much in the past few decades that it is filled with specialized professionals.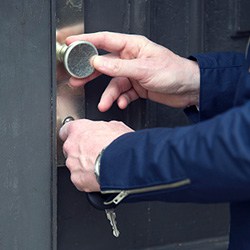 A reputable lock shop should have a team of skilled professionals on hand that can cover every base, and such shops can offer services that a home or business owner may not have considered.  Some of the best security experts around are experienced, skilled locksmiths, and they can assist a client with improving their security, or just help with any lock or safe related issue.
The Value of a Reputable Locksmith
Most people realize that a locksmith is the person to call when locked out of a building or a vehicle.  And this is how people generally get acquainted with their local lock shop.  However, locksmiths aren't there just for emergencies.  They can perform additional services as well, and some of them include:
Key replacement or copying – Whether or not a lock shop is willing to copy or replace a key depends.  It depends on if they have the equipment to do so, and while most do, some lock shops don't invest in that equipment.  That doesn't mean the shop is poorly run – the fact is, is that hardware shops can copy most basic keys with little trouble, and people tend to go there first. Some lock shops, though, do have advanced equipment for replacing laser cut keys, and these are ideal for people that want additional security.
High-security locks – Most contractors use basic locks on the homes and commercial properties they build. Basic locks do their job up to the point where someone attempts to break them, and then they won't put up much resistance.  High security locks, such as those made by Medeco and Mul-T-Lock, take a lot of time or expensive tools to break through.  This will deter most would-be criminals.  High security locks make manipulation and tool insertion much more difficult than standard locks, and are highly durable against forced entry attacks.
Electronic access installation – Locksmiths that are certified in electronic locking systems can provide insight into the best electronic access systems on the market.  These systems can be used to access buildings or vehicles, but they take an extra level of expertise that a lot of professionals don't have.  Electronic locks are a popular option because they allow property owners to gain access faster, which may be a matter of great importance during an emergency.  Electronic locks can also be reprogrammed for those times when resetting the lock is necessary, like when a tenant moves out of a rental home.
Safe selection and installation – Safes come in an enormous variety of designs, and they also vary in their ability to withstand burglary or fire.  Lock shops sometimes have safe experts on staff, and they can answer any questions about a security container.  And there will likely be a lot of questions to ask before selecting the right one.  What's the best safe for paper documents?  Jewelry?  Cash?  Guns?  How can a buyer tell a high security safe from a less secure one?  What does fire rated even mean?  What is the best kind of lock to put on a safe?  How big should the safe be, and is there such a thing as a safe that is too heavy?  Safes cost anywhere from a few hundred to several thousand dollars, so picking the wrong one will be a costly mistake.  A safe expert will ensure that doesn't happen.
Door and window lock repair – Eventually, locks wear out.  Or, more troublingly, they are tampered with.  Sometimes those locks need to be replaced, but they can often be repaired, and for a lower cost than full replacement.  Expert lock shops are obviously the people to call when repair is needed, and such repairs can be done for door locks and window locks, which are all too often overlooked by property owners.
Yes, a locksmith will be there when someone is locked out of their car or home, but they can provide so much more.  If security is a concern for any reason, then lock shops should be one of the first places to visit.