AMSEC gun safes have long been a favored choice among collectors, and it's easy to see why, with their excellent fire and burglary protection.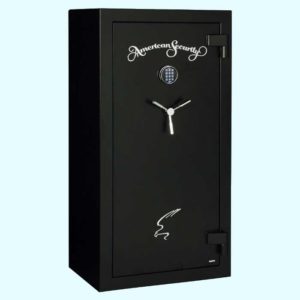 American Security (AMSEC) has been a mainstay in the industry for decades, with origins that trace back to the late 1940s.  Founder Glenn Hall converted a tiny building in Paramount, California into a workshop, with just a lathe and a welder.  From Hall's beginnings as a security container artisan to now, American Security has always been a respected name in protecting valuables, and with more than 400 products under its banner, there is an American Security container for every application.
What do AMSEC gun safes offer?
Protecting firearms is not an easy job.  Burglars are often armed with steel-destroying tools and may have a buddy or two to help with their criminal task.  Residential fires can climb up to 1,200 degrees Fahrenheit or more, incinerating anything that is not defended with fire protection materials.  The kind of security and engineering needed to defend against these threats is not something that every brand offers, but it is something that American Security offers.  What can an owner expect from their American Security container?
Excellent burglary defense – Burglary protection should be the number one priority when selecting a container.  Residential properties are five times more likely to be burglarized than to be ravaged by a fire.  And because burglars are unpredictable and may be armed with a variety of tools, firearm containers need full scale protection.  This means thick gauge steel, an Underwriters Laboratory (UL) listed lock, a continuous weld between door and body, and thick, sturdy bolts that resist force.  In short, the container should at least satisfy UL standards for a residential security container, or RSC.  If further protection is needed, which may be the case for commercial properties, a buyer can get that protection with AMSEC gun safes that are UL TL-15 rated or above.  American Security is one of the few manufacturers that offers a TL-15 container right off the shelf.
Superior fire resistance – When fire strikes, there's rarely time to open up the container and get everything out.  The owner has to trust that the container will hold up under the intense heat.  Fortunately, American Security containers will do just that, with UL and Intertek's Electrical Testing Lab (ETL) certified fire protection that lasts up to two hours.  UL and ETL testing is rigorous and subjects the container to the kind of heat that a house fire will produce.  Most American Security containers are built with UL or ETL fire protection standards, so owners know their collection will be safe, even when the worst happens.
Of course, American Security safes also offer peace of mind, as they will prevent unauthorized access by children, and better organization, allowing collectors to store dozens of firearms safely.  A security container is an investment in the safety of an owner's family and their valuables.  With so much on the line, American Security, with nearly a century's worth of experience in the field, should be the first choice.