Don't Miss It! – Jewelry Safes 25% off
Hollon Reserve Gun Safes 40% off
Selected Used Security Safes and Used Gun Safes 50% off
Jewelry Safes: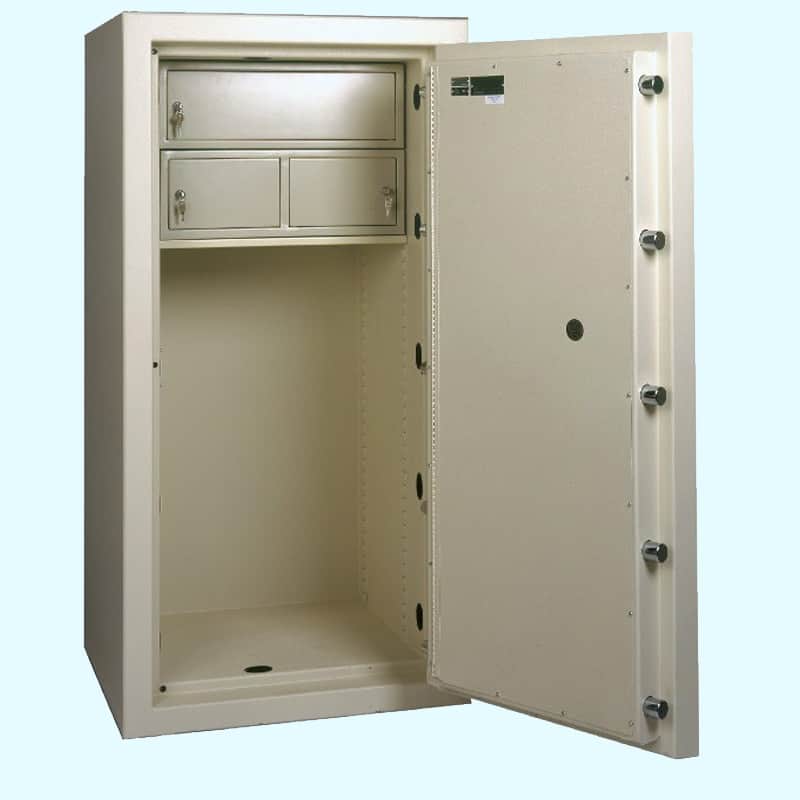 Our ORIGINAL SAFES and AMERICAN SECURITY PRODUCTS (AMSEC) high-security jewelry safes are tested and certified to withstand the most severe attacks and conditions. UL- and fire-rated, these safes are ideal for protecting your jewelry collection and small heirlooms. As some of the best jewelry safes available, the AMVAULT line offers numerous security features, including protection against peeling attacks, an available auxiliary key lock and an optional glass relocking mechanism.
For more information, call us or visit our Houston safe showroom today
Gun Safes:
Hollon Reserve RG22c 40% off  Reg $1599.00 On Sale $959.40
16 Gun     Exterior H59″xW22″xD16″
Torch Resistant Fire Rated for 1 Hour of Protection at 1250°F
Far Exceeds California Department of Justice Regulatory Standards for Residential Security Containers
(7) 1″ Active Chrome Plated Solid Steel Live Locking Bolts
(3) 1″ Fixed Locking Bolts on Hinge Side
3 Way Active Locking bolts with Coverage on All 4 Sides of the Door
Drill/Balistic Resistant Armored Hard Plate to Protect Lock
Active Spring Loaded Re-Locker to Prevent Punch Attacks
Extra Thick 10 Guage Steel Body and Door.
Door of the Safe Consists of Three Layers of Fireboard Totaling 1.5 inch Thickness
Body of the Safe Consists of Two Layers of Fireboard Totaling 1 inch Thickness
Heat Activated Expandable Intumescent Door Seal Designed to Seal out Smoke and Water
Black Texure Powder Coated Finish for Maximum Durability
Standard Silver Package Tri-spoke Handel and Trim with Soft Plush Grey Interior
(1) Full Length Adjustable/Removable Shelf
(3) Small Adjustable/Removable Shelves
Removable Gun Rack
Pre-Drilled Anchor Holes
Used Safes:
Original Gun Safe 7242 One Hour Fire Rating HIgh Gloss Black Finish with Dial Lock KT1
Originally $4,540   Currently 50% off at $2,270
Exterior Dimensions H72" x W42" x D27"
Fire Rated 1 Hour at 1750°F
Original Gun Safe 6040 One Hour Fire Rating High Gloss Black Finish with Dial Lock KT2
Originally $3,740    Currently 50% off at $1,870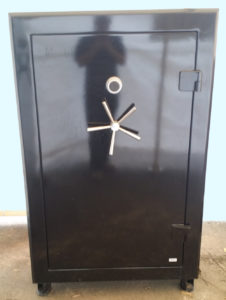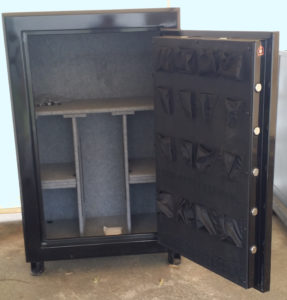 Exterior Dimensions H59" x W39" x D24"
Fire Rated 1 Hour at 1750°F
Gardall 3620 Safe Two Hour Fire Rating with Dial Lock KT3
Originally $2,995    Currently 50% off at $1497.50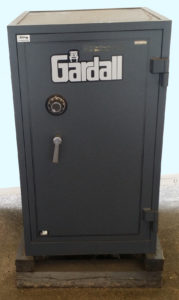 Exterior Dimensions: H43.50″ x  W25.75″ x D26.75″  
Interior Dimensions: H36.25″ x W20.50″ x D19.50″  
2 Hour Fire rated at 1850°F
Reliance TL15 Safe Grey K1
Originally $5,000   Currently 50% off at $2,500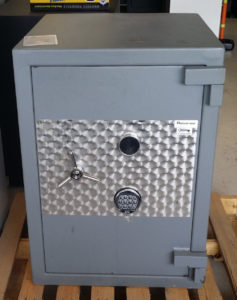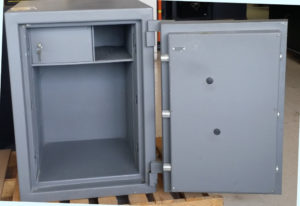 Exterior H-36'' x W-26'' x D-28 .8'' 
Interior  H-31'' x W-20'' x D-19''
Original Gun Safe 6030 One Hour Fire Rated High Gloss Black K2
Originally $3,450    Currently 50% off at $1,725
Exterior H-60'' x W-30'' x D-24.5''
Interior H-56" x W-28'' x D-20.5''
1 Hour Fire Rated at 1750°F
Used Cannon Gun Safe  50% off  Reg $1,400.00 On Sale $700.00
No racks, no shelves, great project for do it your selfers. Build your own shelves to suit, great for ammo.