The Best Safes for Long Gun Storage
Chris, Jun 14, 2021
Gun Sales are Increasing
It is a known fact that the number of homes with firearms in them has risen significantly in recent years. While the need for people to protect themselves and their loved ones has gone up, so has the need for a secure and reliable way to store them. Safes for long gun storage are necessary to ensure your family's safety, as well as comfortability and ease of access.  Therefore, a safe is not only important when storing valuables but also when storing your firearm collection.
The article will explain what to look for when buying your next safe, and also profile seven of our top AMSEC safes, and their features, so you can find the best one for you!
When looking for a safe, there are a number of things to keep in mind. You'll want to look for something that is solid, strong, and built to last. Identifying a safe's structural quality will help you determine the burglary rating, while looking at ETL certifications will help you choose the level of fire-protection you desire. Below are our top picks for housing your long guns.
This safe's 1/2-inch solid steel plate door protects against burglary and fires, while its high gloss paint or textured options are perfect for those who want to hide in style.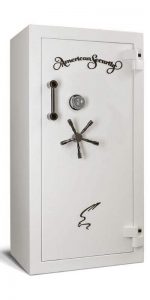 Its ETL certification offers 120 minutes of protection against fire at 1850 degrees Fahrenheit, whilst it also provides authenticity with a UL-certified RSC burglary rating. Available in white color, this product is made in the USA and comes with a lifetime warranty that ensures you can enjoy peace of mind (and safety!) for life without having to break your bank!
This gun safe is the world's most unique and strong! It provides up to 3/8" of steel protection behind an RSC burglary rating. The lifetime warranty will protect your investment for many years. If you need something even more secure, then this AMSEC fireproof gun safe is perfect for you with ETL-certified 120-minute fire protection as well as a high gloss or textured paint option!
This safe also happens to be the best-selling home safe in America, a secret we just couldn't keep to ourselves. 
This lifetime warrantied safe is fire-tested to 1200°F and has an active locking bolt on three sides of the door. It includes a professional door organizer for storing guns, long guns, and accessories with universal spacers to make room for smaller handguns.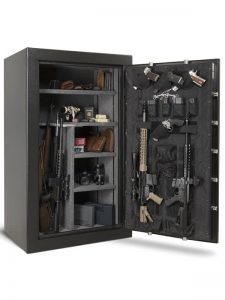 The electrical access hole can also double as a cutout for bolting down furnishings or mounting racks/rack sides if you're into that kind of thing. And with its extra-thick steel body and solid 8-gauge steel doors, it's not easy getting through this without hours of sawing.
If you're looking for an economical option to protect your guns, the TF handgun safe by American Security is the way to go. With a 3/16" steel plate door and filled with drywall, this gun safe protects against burglary attacks from thieves.
Don't let fire damage destroy your valuables with up to 30 minutes of protection in this fire-resistant powder-coated steel cabinet that has drywall and U.L.-listed E lock with an illuminated keypad for reliable security any time of day or night! This product comes black textured paint finish and offers a lifetime warranty against theft and fire destruction means as long as you own it, it's still covered even if something happens down the line.
If you've been looking for a secure place to store your guns- whether part of firearms education, self-defense, or as collector items- then look no further! The American Security SF Gun Safe is the perfect solution. Its steel doors are 1/4 inches thick and have an RSC burglary rating in just under 7 minutes on the drill (tested to UL standard TL 36).
It also has a 90-minute fire protection certification with 3 layers of drywall inside. There are many options, too: you can order this safe in gloss paint or textured paint and with a high gloss finish or textured surface. You also get a lifetime warranty against theft and fire when ordering an SF gun safe.
You can start the day knowing that your guns are protected from fire, burglary, and vandalism with this durable safe. The FV7240E5 offers 47 different gun holes for all of your needs, plus an electrical access hole and pre-drilled bolt holes to anchor it in place safely.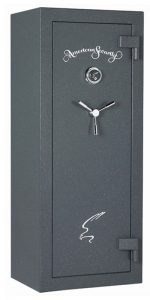 This model is also heat tested at 1200 degrees Fahrenheit for 45 minutes while interior temperatures remain under 350 degrees Fahrenheit thanks to a Heat Expanding Intumescent seal on the door, which helps block out smoke and water during a fire or other disaster. All AMSEC products come standard with warranty coverage against most unforeseen disasters.
The AMSEC SF6036 is a versatile, compact safe that offers a great compromise between size and storage space--ideal for those looking to protect just enough from burglars. In addition, the fire protection offered by these safes has been proven in stringent tests as well- over 75% of homes experience near total damage to the interior during fires.
We're confident this will keep your guns safely hidden away! The safe also features a covered locking bolt hole pattern which will prevent someone outside of an authorized key holder from breaking in while eying valuable targets. For our paint colors, we offer customers high gloss or textured finishes of their choice.
Let King Safe and Lock Help
If you're looking for a safe that can store long guns, AMSEC safes are the best choice. Their options are so vast that it's easy to find the perfect safe for your wants, without compromising any of your needs. We carry a wide range of sizes and models from small to large, so there is  always something perfect for you. 
Our safe experts are always on hand with advice about protecting your firearms. King Safe and Lock has been in business for 50 years, and we promise to provide the highest level of education and care. Contact us today, or visit our Houston-area showroom with over 300 safes in stock!