Why Buy An AMSEC Gun Safe
Updated: November 6, 2018
For decades, AMSEC gun safes have demonstrated their prowess in protecting valuables from burglary and fire.  American Security (AMSEC) has been in the business of security since the late 1940s, when founder Glenn Hall converted a small building in Paramount, California into a dedicated workshop.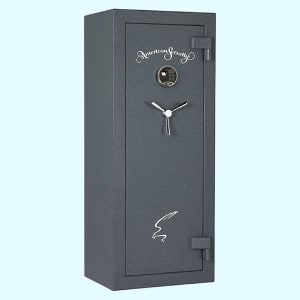 With nothing more than just a welder and a lathe, Hall set to work producing sturdy, reliable security containers. Seventy years later, and American Security's mission remains the same.
AMSEC gun safes offer robust burglary and fire protection, and have the Underwirters Laboratory (UL) and Intertek's Electrical Testing Lab (ETL) certification to back it up.  Firearms are a major theft risk and are badly damaged by punishing temperatures, so the safe's engineering should counter both of these risks.
American Security containers are made with thick plate steel, continuous welding between door and frame, bolts that lock deep into the door jamb and a UL listed lock that emphasizes reliability.  American Security has many residential security containers (RSCs) to choose from, and even offers a UL TL-15 container off the shelf.  Fire protection is another key element of a security container, and American Security products offer up to two hours of protection, even from the extremely intense heat generated from a house fire.  Such protection can keep thousands of dollars' worth of firearms safe.
Firearms need to be organized and they need to be defended. American Security containers ensure just that, and AMSEC has decades of success to prove it.