What to Consider When Buying a Safe for Your Home or Office
Chris, May 03, 2021
As you start to look into buying a safe, you're going to come across a lot of acronyms and ratings that might not mean anything to you. Things can start to get a tad confusing, so we'd like to break some of that down for you. The key elements for home safes, office safes, and gun safes are fire protection, water protection, and burglary protection. We're going to show you what to look for in each category. With a keen understanding of what you're trying to protect yourself against, you'll be able to pursue the right safe.
Fire Rating
House fires can exceed temperatures of 1,000 degrees in a matter of minutes. So, your safe certainly needs to withstand these high heats, at a minimum. The first thing you want to see is that the safe is 
ETL-verified
. That means they've survived rigorous testing in a laboratory and can stand up to some pretty difficult elements. You'll also want to see that the safe has a heat test rating of 60 minutes or more and can withstand temperatures up to 1,200 degrees.
AMSEC safes
 dominate the market, and for good reason. AMSEC is short for American Security Products and they're proudly made in the U.S.A. They have a full range of one-hour fire office safes that are intended to protect your important documents and heirlooms. You'll also find they often come with backlit electronic lock displays, so you can access your belongings, even in a blackout. These are important features to look for when researching home safes.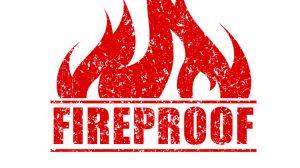 Security
Fire and security are, of course, the primary reasons people buy home safes. They need to be secure, with the ability to withstand extreme conditions. When examining a safe, start with the door. Look for electronic locks, bolting locks, and reinforced layers of steel. Along with an ETL certificate, another good sign is a nod from 
Underwriters Laboratories
. Here's another example: safes from Original Safe & Vault, Inc. are proven to withstand attacks from sledgehammers, power saws, disc cutters, drills, and more. As such, Underwriters Laboratories gave them a TL-30x6 label, which is quite an achievement. If you look at their 
6422 TL-30x6
 model, you'll see impressive fire and security features. First, it boasts a two-hour fire rating, withstanding temperatures as high as 1,850 degrees Fahrenheit. As for safety, all sides of the safe are protected by manganese plating and a cement/composite mixture that's nearly impossible to penetrate. When you inspect the door, you'll notice it's nearly seven inches thick with inch-and-a-half steel bolts on all sides of the door.
Locking Mechanism
Home safes typically come with four different lock options: biometric, electronic, mechanical, and key. Biometric and electronic locks require power. Typically, they're battery-powered and they're quite long-lasting. Since batteries do, indeed, die, you'll want to see some sort of backup option. Another prominent brand is Jewel Safes. Their 
JST-1600 model
, for example, comes with an electronic keypad lock, external batteries, and two keypad lockout keys.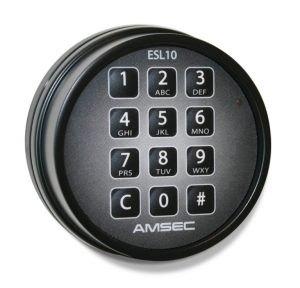 Waterproofing
We've discussed fire and assaults; now, we need to discuss water. Different safes have different strengths. As we saw, some are fire-rated for an hour, some for two hours. That's ideal for someone who lives in an area prone to wildfires. Some come with a stamp of approval from Underwriters Laboratories so they can withstand criminal attacks. That's ideal for someone who lives in an area with high crime. But, what if you live in an area that's prone to hurricanes? Then, you'll want to move the magnifying glass to waterproofing ratings. With fire, safes are rated according to temperature. With water, safes are rated according to depth. This is pretty straightforward. A safe that's rated for 12 inches of water for 72 hours, for example, will protect your belongings for that amount of depth and time. If you live in an area prone to flooding, you'll certainly want to keep your eye on that.
Guns vs. Documents vs. Jewelry
While it's important to consider what you're guarding against, it's also important to consider what you're protecting. Let's talk guns vs. documents. Although it might make sense to consolidate, you actually don't want to store your guns and documents in the same safe. A safe that's designed for important documents works well because it maintains low levels of moisture within the safe. However, that's the exact opposite of what you want in a gun safe. Gun safes don't allow humidity to creep in because that will rust the gun. Those that have expensive jewels to protect often opt for high-security safes. AMSEC, for example, has a high-security jewelry series. It's called their 
AMVAULT series
 and it's perfect for keeping those high-valued items safe. You'll note features like six-inch doors with three-inch defense barriers. There are key-changeable combination locks that are protected by drill-shattering hard plates and spring-loaded devices. The door frames are also drill-resistant, protecting the doors and the bolt chambers.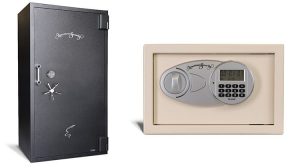 Best Tips for Buying a Safe
We won't overwhelm you. So, we'll stop there. As a foundation, these are the best tips for buying a safe. Whether it's for your office, home, or even your jewelry store, these tips will help you hone in on the right product. Armed with this information, we invite you to give us a call or stop by our Houston showroom. Here at 
King Safe and Lock™
, we have over 400 safes in stock. We guarantee we'll have something to fit your budget and needs. Don't worry about transportation or installation, either. We'll happily deliver and install your new high-security safe. Whether you're looking for something to slip into the closet, or install in the wall or floor, we're here for you. Give us a call at 
(713) 465-0055
and we'll get you protected.