The best locks to improve the security of your home
Chris, Aug 09, 2022
Some people think that all locks are created equal. Nothing could be further from the truth. There are high-security locks that offer the best protection for your home. When you install these, rest assured that your homes are always safe and protected.
Below are some of the best locks for your home:
Multi-T-Lock
Some tools and videos will teach burglars and criminals how to easily pick a lock so they could gain access to your homes. You can improve home security when you switch to Mul-T-Lock.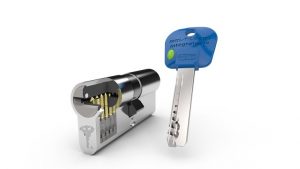 Benefits:
Peace of Mind
Multi-T-Locks are made with strong materials that offer the best protection for your home. You'll have complete peace of mind while sleeping or when away from home, knowing that your home is completely safe from burglars and criminals. With Multi-T-Lock, your home can resist drilling, prying, and picking. They can never get inside your home without your keys.
You Don't Have to Worry About Key Duplicates
With traditional locks, anyone can make key duplicates. You don't need to worry about this when you have a Multi-T-Lock for only authorized dealers can create duplicates. Also, no one can copy the key unless they present an official Key Order Card. The dealer refuses anyone who makes a copy of the key without this card.
You Have the Strongest Deadbolt
With regular locks, a criminal adept with using a credit card or screwdriver bypassing locks can easily break into your homes. With a Mul-T-Lock deadbolt, your home will always be protected from break-ins. Mul-T-Lock deadbolts have passed the toughest industry tests and are not easily defeated. Whether
No Need to Bring Several Keys
One option for Mul-T-Lock systems is to have just one key for all locks in your home. You can use one key for your doors, padlocks, drawers and cabinets. It's so convenient, and you know everything is safe.
Designed to Ensure Maximum Security
Mul-T-Locks are designed differently compared to other locks. You probably noticed that regular keys stand vertically and have cuts that somewhat resemble valleys. A Mul-T-Lock key lies horizontally and doesn't have traditional cuts, making breaking in and picking impossible to do. Also, a Mul-T-Lock has unique circular dimples specific to that certain key and lock. This is why you can never duplicate a Mul-T-Lock unless you can present the order card.
Medeco
They have been manufacturing high-security locks for over 50 years. When it comes to home security, you can always rely on Medeco locks. They provide the best and the highest protection against burglaries.
Benefits:
Patented Key Control
Like Mult-T-Lock, purchasing Medeco locks protects against unauthorized copying of your home keys. Your home is safe and secure so long as you have the master key with you. Keys will never be duplicated unless they have proof that they are the owner.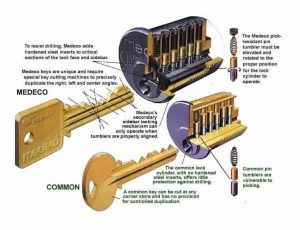 Best Protection
High-security locks are built and designed to offer excellent protection. No one can ever drill or pick Medeco cylinders. Their cylinders have passed UL437 testing to measure how much they can resist physical attacks. It also passed about 40,000 cycle endurance tests as well as attack resistance tests. You have the highest security with Medeco locks.
Special Angled Key Cuts
With Medeco locks, no one can make unauthorized 3D printed copies of either the blanks or keys. Also, special access to Medeco-specific blanks is required before copying keys.
Tuff Strike
It's a necessity for every home to have high-security locks. One of the best in the market is the affordable and highly effective Tuff Strike.
You Get Extra Protection
With the Two Post Strike Plate, you get solid protection against any break-ins. It reinforces the deadbolt within the door jamb. With the two heavy-duty posts, your home gets extra protection. It's tough for anyone to break into your home easily.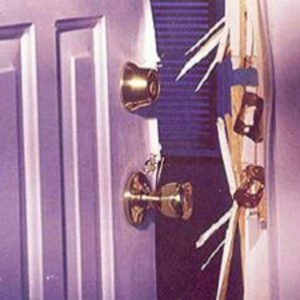 You'll Never Have to Worry about Burglars are Criminals
Tuff Strike locks are extremely durable and built to last. They don't only provide the highest protection, but they may be the only locks you'll need for your home.
Installing locks can be difficult and complicated, depending on the type of lock. While there are DIY videos to help you install them, we would always recommend that you hire a professional to ensure proper installation and avoid issues down the road.
Reasons why you need a locksmith for installation:
Safety
You may jeopardize safety by installing locks by yourself with the help of a DIY video or by hiring an unqualified person to do it for you. You may also damage the door when you make one single mistake. This is why it's essential to hire a locksmith, for they know locks and keys like the back of their hands. If there is anyone who can help you with installation, it's them. No one else.
Reliable and Experienced
When it comes to home security, it's best to have a professional who isn't only qualified but is experienced in installing locks. Locksmiths are highly adept at handling any security-related issues. They have the right equipment and tools needed to install locks properly. Most importantly, locksmiths only want maximum protection for your home.
Available 24/7
You want someone whom you can call any time of the day. Our locksmiths at King Safe and Lock are available at your most convenient time. Whether you need installation or get locked out from your home at the wee hours, we can assist.
Get in Touch With Us
Whether you need high-quality locks for your home or need a professional to help you with installation, don't hesitate to give us a call. King Safe and Lock has been proudly serving the greater Houston area since 1972, and look forward to earning your business.
We are an authorized Mult-T-Lock and Medeco service center locksmiths in Houston. Our professional team is always ready to assist, 24/7. We take pride in our commitment to provide only top-notch services to all of our clients.
Visit our large showroom or contact us for more info.