How to Secure Your Business: A Guide to the Perfect Commercial Safe
Chris, Jul 13, 2021
It's no secret that the world is changing. We are more aware than ever before of threats both large and small, from hacking to a break-in on our property. These risks are something that business owners need to take seriously in order to protect their investments and ensure they're operating as efficiently as possible. A commercial safe is the perfect solution for both small and large businesses alike because it offers more than just security. In fact, it can be the difference between having a successful business and being robbed blind. Read on for our guide to choosing the perfect commercial safe!
What is a Commercial Safe and Why do I Need One?
Commercial safes are really just a larger version of the standard home safe. Because most businesses have more to protect, they come in bigger sizes and offer extra security features. For example, while traditional safes usually require a four-digit code, commercial safes usually require at least a six-figure code as well as an additional lock that requires a key.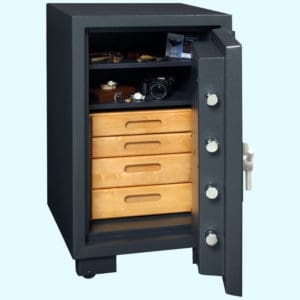 Commercial safes are effective for the following reasons:
They're a deterrent
We all know that criminals are more likely to choose an easy target, so if they see that your business has invested in commercial-grade security, they're going to look elsewhere. In addition, commercial safes come with physical and digital defenses, making thieves think twice before getting into your safe.
They're a buffer against theft
Not every business is going to have on-site employees, and when you do have them, they're not always the most trustworthy. This means that even if someone does manage to break in or gain unauthorized access in another way, there's still a layer of protection between them and the things that matter most.
They contain backup options
Many commercial safes come with a method of recovering your combination in case of an emergency. In addition, some have digital backup options where users can access their codes from anywhere. Even better, some have both! You never know when something is going to happen, and having the ability to send out new codes remotely can save you a lot of heartache (and money) in the long run.
Tips for Choosing the Right Type of Safe for Your Business
There are many types of safes out there, and you'll need to know which one is going to be most effective for your business. Here are some tips:
Know what type of business you have and how much cash is typically on hand

Determine your needs - for example, do you need to protect firearms or valuables from fires and floods

Look at the size of the safe - will it fit in the location where you want to put it

Consider a fireproof safe if you're looking to protect paper documents that can't be replaced

Think about whether or not an electronic lock would work best for your situation 

Determine if a combination lock is right for your needs or if biometric locks might suit better

Consider how much weight you need to store in your safe

Read reviews on various safes before making a purchase decision 
Our Top Picks
Here are some of our top picks when it comes to commercial safes:
Amsec offers a range of safes perfect for businesses that need to keep their valuables safe from fire and water damage. They're secured with 120-minute fire ratings and have thick walls that can withstand even a blast. Some notable models include the Amsec CSC1413 and Amsec CSC4520.
You can keep your money safe and sound with the Perma-Vault depository safes. Place these near your cash register for easy access to all of that hard-earned dough while also limiting how much you have in front of you at one time. This is important if it's just not practical to lug around a huge amount - especially when there are potential thieves out there looking for an opportunity! Some notable models include PRO35-12 and PRO35.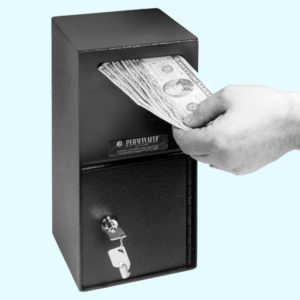 Original security offers a range of sizes and configurations so you can find what best fits your business needs. These safes offer 90-minute fire protection and come with solid steel deadbolts and heavy-duty chrome-plated steel locking bolts that help deter theft. They also have glass relocking devices to ensure the door is locked in case of an attempted break-in. Some notable models include OFB1413 and OFB2513.
Final Thoughts
Criminals are always looking for the easiest target, but you'll be able to deter them from trying when you step up your game with a commercial-grade safe. These come with multiple layers of security so that not only can thieves see they're a hard target to break into, they won't even know what's inside!
In addition, many of these safes can store valuable information that can be accessed remotely if you ever need to change a combination or reset all the codes. There is no one-size-fits-all solution, so make sure you look at your budget and needs before deciding on the right safe for you!
Get in touch with King Safe and Lock today for all of your safe and lock needs. We are dedicated to providing you with all the information you need on your commercial safes so that you can make confident decisions in buying what's right for your business!