How To Pick The Perfect Safe
Chris, Jun 29, 2021
Do you know that Americans own 46% of the total number of firearms in the world?  That is a lot of guns. And surely, they need safe and secure storage.
While you can store your firearms in a cupboard, that gives you no guarantee of safety.  What if they are stolen or damaged? How do you store them if you have toddlers at home?
To avoid this fuss, do the right thing. Get yourself a trusty and solid gun case.
To help you out, we have designed this guide so you may pick the best safe for your handguns, shotguns, and rifles.
Storing Your Gun Safe
The first thing to think about when selecting a gun safe is where will you keep it? Will your new safe fit inside the area you plan to designate to it?
Maybe you wish to place it in your basement, attic, or garage, which is all relatively spacious. So, you won't run out of room. 
However, if you want to put the safe in your bedroom cupboard, you are better off buying a smaller size.
The correct way to go about solving this issue is to measure out the area before you go out shopping. This way you can be sure what kind of gun safes will be ideal for your space before you buy one. 
Size Of Your Gun Collection
Your gun collection may range anywhere from having only a couple of handguns to amassing a ton of firearms including rifles and shotguns. And if you plan to keep adding more. Then you better get a safe that can accommodate all your future purchases.
Because let's face it, guns are not a small investment. And once you buy one, you are probably going to keep it around for a long time. So, why not keep them as safely as possible.
For a sizable collection, the BF6636 is a match made in heaven. It has a huge gun capacity and can preserve a total of 58 guns at any time.   
But if you only have a few prized possessions, then you can go for something smaller like the AMSEC TF5517 case which can store 11 guns in total.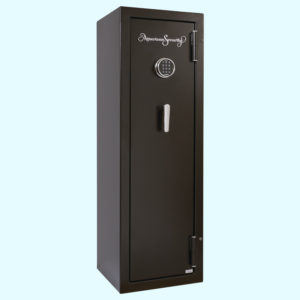 Fireproof Safes
If fire safety is a major concern for you, getting an ETL-verified gun safe is your best bet. 
The typical suburban house fires can last up to an hour at almost 1200 degrees. So, you need at least 60 minutes of protection before the blaze goes out. The AMSEC SF6030 gun safe can withstand high temperatures for up to 90 minutes to save your weapons from heat and smoke damage. 
But if you want to go a step further, the BF Series cases have you covered. The AMSEC BF Series original safes like the BF7240, are ETL-verified for 120 minutes of fire protection. That is twice the time you need.
Furthermore, the BF Series cases are made to last and can tolerate temperatures up to 1850 degrees!
Water And Moisture-Resistance
Fire protection is a mainstay for most gun safes. Though, sometimes it's not enough. Especially if your city has high humidity. Or if you live in an area that faces frequent floods. 
In that case, water protection should be on top of your checklist for buying the perfect safe. Because you don't want your expensive guns to rust away while they lie inside the locker. 
However, generally speaking, the better the fire rating on a safe, the better it will protect your guns from water. In this regard, any case from the heavy-duty AMSEC BF Series will be great for you. 
Safe Security
The thickness of a safe lets you gauge how much protection it can give your guns against theft. 
With its 1/2" steel plate door, the AMSEC BF7250 gun safe provides you more than enough protection against any burglaries. The case also boasts a UL RSC certification for burglary protection, so you can rest assured your guns will be under ample protection.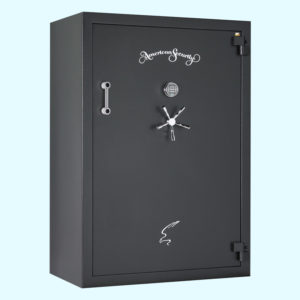 Deciding The Brand
There are numerous brands of gun safes on the market. But only a few are really worth your time and investment. So, always choose the brand that offers you the best value for money.
AMSEC, for instance, has been in the business since the 1940s. Their gun safes are manufactured using the highest grade materials to ensure top-notch protection against fire damage and theft. And those aren't mere claims. 
All the products sold by the company are certified by UL, Underwriters Laboratory, and ETL, Intertek's Electrical Testing Lab, to promise you ultimate safety. 
UL is one of the most reputable organizations around that test safe security. While the ETL certification guarantees you fire protection. Both these certifications are a must-have for any brand you decide to buy from.  
Price
Gun safes don't come cheap. And the ones that do, are often not good quality. 
For your guns, you want to buy a safe that offers you the guarantee of a lifetime, no matter what the price. The AMSEC TF Series provide you original safes at economical rates, along with a lifetime warranty against fire and burglary.
But if you have an unlimited budget, then go for the premium AMSEC BF Series. With a UL Level 1 RSC Burglary Classification, these safes give you top-tier performance and security.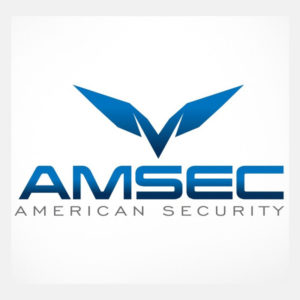 To Wrap it Up
These are just a few things you must be mindful of when choosing a gun safe.
But if we are honest, picking the right safe for your gun collection is not as straightforward as it seems. So, if you feel stuck in making a decision, that's OK!
You can always ask for our help. At King Safe and Lock, our team is equipped with the right knowledge and expertise to help you get the best gun safe according to your requirements. And that doesn't mean it will cost you an arm and a leg. We have a huge collection of safes for every budget.
Don't hesitate to contact us at (713) 322-8758 for a consultation or email at kingsafeandlock@gmail.com and we would be happy to be of service.